Master Class - October 19th, 2017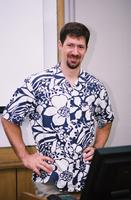 Sasin Graduate Institute of Business Administration of  Chulalongkorn University – Thailand's top business school - will hold a Master Class on Thursday, 19th October 2017 by Professor Brett Saraniti, from 18:30 to 21:00.
Game Theory, Neuroscience, and Strategic Thinking
This talk covers the idea of strategic thinking from the blended perspectives of Game Theory and Neuroscience.  Various examples demonstrate the cutting edge theory and what it tells us about practical human behavior and decision making.

Visiting Professor of Managerial Economics and Decision Sciences,
For more information and to register, please email to Admissions@Sasin.Edu or call  0-2218-3851,  02218-3856-57, 0-2218-3861-62, Line ID: @sasin