DBA
Become a respected thought leader and a sought-after expert in your profession or industry
Sasin DBA Learning Goals
The DBA Program is driven by the following Learning Goals:
To develop resilient, adaptive, impactful researchers: with analytical, entrepreneurial and team skills, aware of all forms of diversity, capable of effective communication and engagement with stakeholders, with a keen sense of ethics, responsibility, and the overarching importance of sustainability. In addition, the DBA program will develop your ability to:
mindfully reflect upon—and question—your experiences and develop new skills, values, and insights
frame your research by critically reviewing—and extending—prior academic and practitioner research
rigorously specify real-world problems; design research to logically investigate them; apply a sustainability and entrepreneurial mind-set to execute that research; and persuasively present the results in at least one peer-reviewed journal article
add to business management knowledge by making original contributions from your research, which articulate the value-add for stakeholders, and so satisfy the intellectual curiosity which led you to enter the DBA program.
How long will the Sasin DBA take me?
Much depends on how much time and focus you can devote to the program. Chulalongkorn University requires that you complete all the requirements for your DBA (including successfully defending your thesis) within six years of starting your program. Most candidates will finish well within this timeframe, normally within three years of entry; some may proceed at a more leisurely pace of four years. In total, you'll complete
six blended learning courses
before progressing to the research phase of the program.
The Six Blended DBA Courses
Course 1: Fundamentals, Skills, Values & Leadership
The purpose of your first DBA course is to provide you with a comprehensive understanding of academic research and to help you develop research skills to begin working on your thesis. The course is structured around four key areas: an introduction to the literature review; the fundamental building blocks of academic research; researcher communication; and mindfulness and reflexivity. The course will begin with a rigorous assessment and exploration of the real-world problem or scenario you are planning to investigate in your organization, industry, business, or profession. You'll then begin searching for relevant research to complete a mini-literature review on your practical business problem. You'll deconstruct two journal articles from your literature review, to compare and contrast the two research investigations according to the fundamental building blocks of academic research. To extend your mini-literature review, you'll refer to a six-point framework to help you improve your academic writing and use of references to introduce your topic and prior research published on it. To practice reflexivity, you'll reflect upon your professional practice and assumptions to re-examine your real-world problem in relation to the literature you read. After completing course one you'll have an early draft research proposal to enable you to make a systematic and confident start to your research journey. You'll further develop your research proposal and literature review in course two by focusing conceptualisation and theorisation of your real-world problem.
Course 2: Digital & Environmental Disruption – Organizational Impact
In our current era characterized by unprecedented uncertainty and change, digital and environmental disruptions serve as compelling contexts for academic exploration. This DBA course focuses on using these disruptions as a means to understand the roles of theories and concepts in management research. By examining how these environmental and digital disruptions impact management practices, the course aims to provide you with a nuanced understanding of the origins and evolutions of key theories and concepts. The course serves as foundational preparation for you to conduct literature reviews on theories and concepts relevant to your own chosen phenomena, setting the stage for future academic pursuits. Through rigorous literature reviews and scholarly discussions, you will learn how to critically engage with existing theories, identify gaps in current research, and conceptualize new theoretical frameworks for your own research endeavors.
Course 3: Real-world Research Practice
This course will introduce you to the iterative nature of the research process and practice of conducting real world research. You'll learn how to clearly specify problems / research questions in relation to past research, how to utilise concepts and ideas in existing literature to better understand your problem, and learn about the ethical issues that your research may encounter. Real world research approaches, such as action research, design science research, and other practitioner friendly research methods will be introduced, including the key distinctions between quantitative and qualitative data. Finally, you'll learn about the value-add that different types of research aim to contribute to different types of stakeholders.
Course 4: Research Methods: Quantitative Focus
This course will enable you to design and conduct rigorous, evidence-based research using quantitative approaches, methods, and data. You'll be introduced to various quantitative methods suitable for real-world researchers, and you'll learn how to identify their key features and strengths, as well as the quality criteria that underpin and evaluate them. You'll gain hands-on experience applying quantitative methods to your business problem and research topic, thereby understanding how to select appropriate methods and data for the specific research questions or problems you are addressing.
Course 5: Research Methods: Qualitative Focus
This course is designed to equip you with the skills to prepare and conduct reflexive, rigorous and evidence-based research using qualitative research methods and data. Throughout the program, you will be introduced to a variety of qualitative methods suitable for real-world researchers. You will learn to discern the key features and strengths of these methods, as well as the quality criteria that underpin them and are employed to evaluate their effectiveness. The course provides practical, hands-on experience in applying qualitative methods to address business problems. Through this process, you will gain a comprehensive understanding of how qualitative methods and data can effectively contribute to the research questions you are investigating.
Course 6: Domain-specific Research Seminar
This course will be structured by you and your Thesis Mentor to ensure an in-depth assessment of literature on your intended research topic and problem. This will involve reading and reflection, along with several critically reflective literature reviews focussing especially on management and business applications. This course will equip you with the analytical skills necessary to examine, evaluate, and utilise research in your topic area to frame your project focus and inform the design of your research.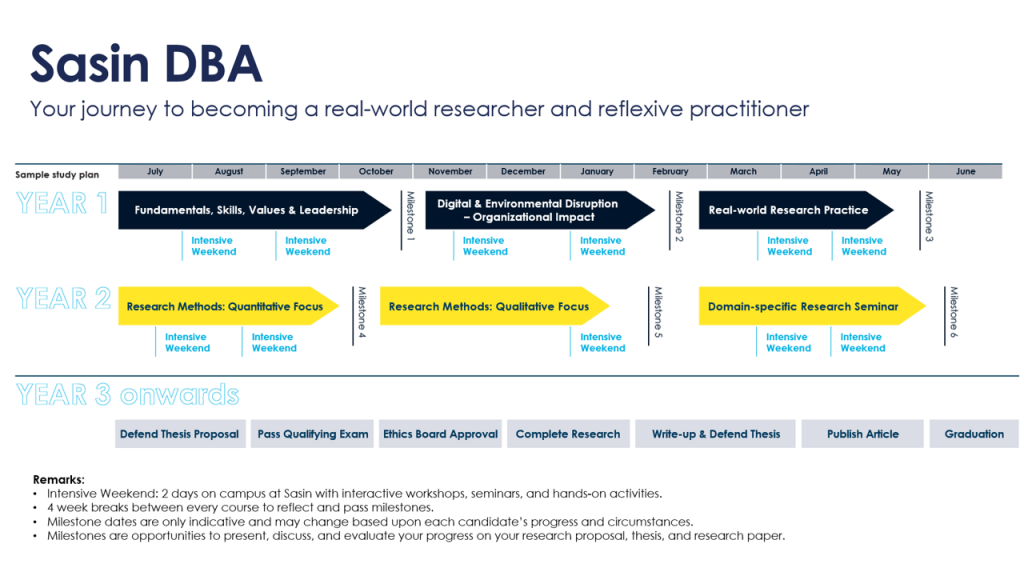 Become Part of the Sasin Research Community
In addition to these six blended learning courses in the taught phase of the program, DBA candidates will also take part (in-person or remotely) in Sasin research workshops, and present in these workshops at least once during their time at Sasin. This will ensure that DBA candidates become important members of the broader Sasin research culture. DBA candidates (with permission of the instructors) may also attend and observe MBA and EMBA classes, either in face-to-face classes or by review of recorded materials. While no academic credit will be given for attendance, such participation can materially broaden and enrich DBA candidates' backgrounds, especially in subject areas where candidates feel they want to further develop their expertise and skillset.